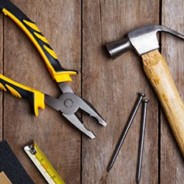 We are a relatively new CR so I try and arrive early each week to ensure that everything is in place for the evening.  Each week when I arrive, the faithful staff at the church have set up the chairs, set up the tables and chairs for the cafe, ensured all the band equipment is in place and the dividers are ready.  We are so blessed to arrive with all this hard work having been completed.  This week was a little different.  When I arrived everything was ready but right in the middle of the room was a large Skyjack along with 4 freshly painted large wooden frames.
I immediately went to work trying to get this situation rectified, opening the doors to get the smell of the paint out and tried to find someone to move the Skyjack and the 12 foot frames.  My husband wisely discouraged me from trying to move the Skyjack for fear I would drive it through the wall.  I like the room to be perfect each week and we were having a guest teacher this week, so this added to my distress.  I put away the small equipment including a level, hammers, and a long extension cord.  Realizing I was not going to be able to move the rest of the stuff, I went to work on myself using the serenity prayer to calm my heart "accept the things I cannot change".   This was a challenge for me as I like things to be perfect!  By the time the leadership team began to arrive I was in a better place and able to tell them that we would just have to pretend the things were not in the middle of the room.
Well GOD certainly had another plan.  When Chris arrived to teach the lesson, he arrived carrying a large bucket of stuff.  You can imagine my surprise when I saw inside the bucket and there were all kinds of construction items; including a level, extension cord and hammer.
The lesson was on Relapse and Chris had related the ENTIRE lesson to his previous life under construction.  He started his lesson thanking us for setting up the room as a construction zone just for him.  Well I smiled the entire night.  GOD knew this was coming!!  Wouldn't I have been angry if I had have achieved my goal of getting rid of all the construction items.  Another LOUD reminder from God that this is HIS ministry, and that I am simply his servant! What an incredible GOD and an incredible ministry to be a part of!!
Kellea Corriveau is the Ministry Leader for CR at Forward Church in Cambridge, ON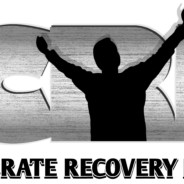 Grand Valley Women's Prison, Kitchener, ON
In the summer of 2007 I had the opportunity to attend the CR Summit in California.  I was going to take all the workshops on leadership I could and go back to my group and get really involved.  One of the workshops I went to was full, so I could either sit in the hot sun or go to another one.  The only one with room was CR Inside.  I knew God was not calling me to this, after all I was the wimp who struggled with fear of violence, anger and co-dependence, but I knew there was a need, so figured I would go and bring the information back to our group.  The second workshop I went to was also full and I ended up in the second part of the CR Inside Workshop.
18 months later I found myself standing, quite comfortably I might add, in front of about 15 inmates explaining Celebrate Recovery, doing the lessons and bringing in testimonies along with a team of 6 other women that God so miraculously put together.
Six months later we had 32 women coming to CR Inside with 18 in step studies.  In the last 5 years I have seen miraculous transformations in many women and one of the biggest joys in my life is to be a part of theirs.  Instead of heads down, eyes half closed in shame and remorse, I see women with heads held high, smiles on their faces and twinkles in their eyes.  Yes, a twinkle in their eyes that was not there before.
They are full of life and purpose, no longer seeing themselves as the worst of the worst, worthy of nothing good life has to offer.  They change when they find God's forgiveness through Jesus Christ, forgive themselves and know they are a child of God, created by God for His good purpose.
They have a peace and serenity about being right where God wants them to be for now, because they know the pain of others around them and how God will use them to minister to that very need.  They become aware that there is a very different life outside the prison walls than the one they knew when they came in.  This helps them to be content to grow while they are inside so that they can be well prepared to live that different life when they get out.
Many of the women come to know Jesus inside prison when they hardly knew anything about Him before.
I have come to discover that prison is not the end of the line for many inmates but it can be the very beginning of a very special life for them with the right programs and the right ministries coming inside.  Some of the women have even said this is probably the best thing that ever happened to me or I would still be out on the street, until I died a horrible, early death.
You may be thinking some of these prisoners may never change and you are right, as some want to do their time and get back out and continue a life of crime.  Others will do every program they can to get brownie points for early parole, but many will have their lives changed forever.
God has taken my life from a place of struggle, pain and shame and given me a ministry to a bunch of women who I am proud to be friends with, especially when I see the new found joy in their lives.  God has given me beauty for ashes and restored the years the locusts have eaten.
Cathy Sherman, CR Ministry Leader
---
CRI – Celebrate Recovery Inside Jails and Prisons happens with teams of volunteers, that God has prepared from coast to coast in at least a dozen institutions, giving of their time and sharing their recovery.
Cathy Sherman and I had the privilege of being on a team that pioneered CRI into Grand Valley Federal Prison for Women in Jan 2009.  For the last three years, I have had the privilege, challenge and joy of trying to fill some very big shoes, as I took over the role of CR Inside Rep from Cathy.
God's love has changed me to allow me to go into the dark places some would choose not to go.  Hebrews 13:3  "Remember those in prison as if you were their fellow prisoner and those who are mistreated as if you yourselves were suffering.
I have been in and out of prison since 1989, visiting family members and have personally seen the results of the commitment of volunteers in my family's lives.
In our work with Celebrate Recovery Inside I am pleased to tell you that several women who have gone through step studies inside are now co-leading open share groups and step studies, plus sharing their personal testimonies in large group and on the outside at local CR groups.
BUT there is still plenty of work to be done.
Across Canada there are 56 penitentiaries; 7 maximum, 20 medium, 16 minimum and 13 multi-level security federal prisons.  Of these Federal Facilities 7 of them are in the Kingston area alone, and NO Celebrate Recovery group on the outside.
Matthew 25:36 says "I was naked and you gave me clothing. I was sick and you cared for me. I was in prison and you visited me."
SO
Here are our needs: First and foremost we need PRAYER
Prayer for CR Inside
Prayer for volunteers to go Inside
Prayer for a CR group in each community that has a correctional institution
Prayer for volunteers to come alongside newly released inmates
Prayer for the transition of inmates from the Inside, Out
Prayer for the families of inmates
Our goal would be to have CR in every correctional facility in Canada and a thriving CR group in each of their communities.
My own journey has been that of a lonely, angry, unloved woman that God continues to heal one day at a time and is now using to minister to other men and women who feel lonely, angry and unloved. Thanks for letting me share.
Kathy Deane, CR Inside Canadian Rep
---
Celebrate Recovery Inside – Red Deer, AB
Hello, my name is Dwight.
How does one go about describing one of those amazing life experiences that simply affirms and re-affirms God's existence and His constant goodness to us?   That's what CR Inside is.
Celebrate Recovery began in Red Deer, AB  January of 2009.  In mid 2012 I was approached by our pastor about forming a team to take CR to our local, medium-security, Federal facility for men … Bowden Institution.  I have to admit that at first I resisted the notion, as I already had multiple commitments each week.  Besides already volunteering in a different chapel program in Bowden Institution each Saturday, I had CR T.E.A.M responsibilities in town, personal mentoring and sponsorship relationships to maintain, and assisting with the technical chores and scheduling of each week's CR meeting …. oh yes, .. and trying to run a business.
I didn't doubt that the CR program would benefit the inmates.  Having served as a prison volunteer for years, I have seen God touch many lives in 2 institutions.  However, soon after the pastor's request, a Chaplain from the Institution approached me about bringing CR Inside to the chapel.  The writing was on the wall.  This seemed to be something the Father wanted done.  In October 2012, we put out a call for some CR volunteers to join this endeavor, as this effort needed a team of committed brothers.  We were blessed to have 4 excellent, though inexperienced; gentlemen apply for the privilege of prison ministry.  With some quick orientation and training, the 5 of us began a CR Inside ministry in the spring of 2013.
We saw hearts opening, walls coming down and lives changing before us each week … so much so, that we heard of prison staff asking certain individuals 'what was happening in their life?'  The change was that noticeable!  Each week we would pray, laugh and sometimes cry, together.  Each of our trainee volunteers were amazed at the experience and awed by the response of the inmate participants.  In fact they were so impressed that 2 of them stepped up to lead the 2014 program with assistance from some of the recent inmate 'graduates'.  That 2nd session has just completed and the 2015 program is already pre-staffed as 3 of our original team have offered to lead the next study to begin in the New Year.
We served because the Lord made it very evident that this was on His heart.  We are drawn back because, in that confined setting, we also experienced change in our own hearts, plus we are eager to see what God had done in the participants' hearts from week to week.  God continues to draw men to His son, Jesus Christ, both inside and outside of corrections facilities.  If the Apostle Paul could leave his past behind and become a dedicated servant of Jesus… I am excited to one day share Heaven with the many other people that these 'new creations' will touch for the Kingdom of God.
What we've learned starting this CR Inside program:
CR Inside is a team effort
God needs to provide the team
When God does provide the team, commitment is not a problem
CR Inside changes lives
Just as important as the Inside program itself, is the wonderful response and acceptance of our Red Deer CR group to released offenders.   Without that 'acceptance' … our efforts would be largely 'for naught'.  Thank you to all who have prayed and responded to the Lord's call.  To God be the glory!  Thanks for letting us share.
Dwight, for our Bowden Institution CR Inside team